Happy Valentine's Day, Mamas! Do you like to stay in on Valentine's Day, or go out? I prefer to stay in and do date night at home. I always have, even long before kids! Whatever you prefer, here are some fun things to do with your Valentine or with the kiddos!
Happy Valentine's Day to all of you! XXXOO!
PLACES TO GO
My Picks for Date Night! 

If you want delicious craft cocktails, oysters and pizza from the cozy wood oven go to Steel & Rye. They have a special four course tasting menu for Valentine's Night! PS. They are seriously awesome with Kids 🙂
For the best margaritas & guac and a seat at the coolest bar, head to Yellow Door Taqueria
To carbo load on the yummiest pizza & house made pasta check out Molinari's
If steak & wine is your thing on date night, go to The Industry, featuring a three course dinner for Valentine's Day
STAYING IN?
Love these ideas for date night at home from the Every Mom
Sweet Treats for your Valentine

THINGS TO MAKE
Valentine's Play Dough
In a medium saucepan, combine 1 cup flour, 1/3 cup salt, 2 tsp cream of tarter, 1 tbsp coconut oil, and 1 cup water. Stir over low to medium heat, add food coloring, mix well, let cool and voila! For Valentine's play dough we made Pink, Purple and added Glitter!
As if I need another excuse to make pizza
Over 40 printable options with time to spare!
Homemade Pop Tarts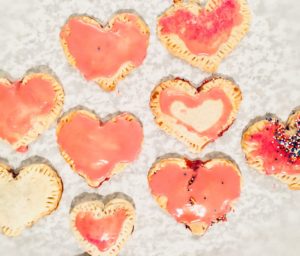 Preheat Oven to 375 degrees
Ingredients:
Flour (for rolling), Pre Made Pie Crust, Strawberry or Raspberry Jam
For the Glaze- 1 Cup Confectioners Sugar, Splash of Vanilla Extract, 2-4 Tbsp Milk, Food Coloring, Sprinkles.
For Egg Wash- 1 Egg, 1 Tbsp Water, whisk until foamy
Directions:
Roll out dough and cut into heart shapes, as many as you can get. Make sure you have an even number! Top half of the hearts with jam of your choice- make sure you do not overfill. Gently place another heart shape on top of each. Using a fork, carefully seal the edges. Brush each completed pop tart with egg wash. Bake on a parchment lined baking sheet until tops are golden brown, about 15 minutes. Let cool!
For glaze, combine confectioners sugar, vanilla and milk until you reach desired thickness. I went for a thinner, runny glaze. Separate into bowls and add food coloring of your choice.
Decorate cooled pop tarts with glaze and top with sprinkles. Serve to all of your Valentines!