School is in session and mornings are a rush! There is no time for a hot breakfast when you spend half the time just trying to convince the kids to get their clothes on. Anyone else? Bree, from The Little Big Spoon has the perfect solution for you! This yummy zucchini bread is perfect for the whole family, and you can make it ahead and serve on the go. Especially if you turn it into our family favorite, MINI MUFFINS!
You'll need …
1 c shredded squeezed zucchini (about 1 large zucchini)

1 ripe banana

3 eggs

1/4 c honey

2 c super fine almond flour

1 Tbsp cinnamon

1 tsp baking soda

1/4 tsp sea salt
What to do …
Heat your oven to 350* and line two small loaf plans with parchment paper and grease with coconut oil or a nonstick spray. I used (2) 8×4" loaf pans purchased from Home Sense 🙂
In a medium size bowl, finely shred the zucchini. With a cheese cloth, nut bag, or super thin dish cloth (you could even try paper towels), squeeze the zucchini shreds and wring the excess water into the sink or bowl. You should fill about 1 cup of shredded and squeezed zucchini.
In a small bowl, mash the banana and then add the remaining wet ingredients.
In a third separate bowl, sift all the dry ingredients together.
Add the dry ingredients into the wet. *Note: If the mixture looks a bit clumpy from the almond flour, I suggest putting it in a high speed blender to really smooth out the batter. I had to do this as the almond flour on hand wasn't super fine.
Fold in the zucchini.
Pour the batter evenly into the two pans. *Optional: Top with allergy free chocolate chips. That's what I did! But of course, you can top with nuts or more banana.
Bake for ~40 minutes and allow to cool. Every oven is unique. Keep an eye on your loaves around the 30 minute mark. Stick a knife in the center and see if it comes out clean. If not, continue to bake until knife is removed clean. For mini muffins, bake for about 10-12 minutes 🙂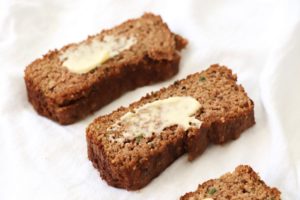 Now, quick, sneak away with a slice of zucchini bread and a warm cup of coffee 🙂
Be sure to share your tasty treats with all of us mommas and tag @thelittle_bigspoon and @themiltonmoms!
Check out more deliciousness at The Little Big Spoon! Or on Instagram.